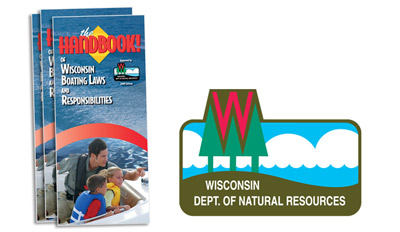 Wisconsin Boating Laws and Responsibilities
Wisconsin Department of Natural Resources enforcement officers patrol Wisconsin waterways to make your boating experience safe and pleasant. Cooperate with them by following the suggestions outlined in this handbook as well as the rules of common courtesy while operating your boat.
Boating Basics includes: vessel length and capacity, fueling, float plans, navigational rules, U.S. Aids to Navigation, weather and other boating emergencies, and personal watercraft (PWC) basics.
It's the Law includes: registering information, registration fees, display of numbers, legal operating age, required equipment, unlawful operation, boating under the influence, reporting accidents, enforcement, environmental restrictions, and laws governing PWC and vessels towing skiers.
Wisconsin Boating Laws and Responsibilities Handbook.
For more information, tips and videos visit the DNR website's boating section: Safe Boating in Wisconsin.