The FBI National Academy (FBINAA) is a professional course of study for U.S. and international law enforcement leaders that serves to improve the administration of justice in police departments and agencies at home and abroad and to raise law enforcement standards, knowledge, and cooperation worldwide.
Its mission is "to support, promote, and enhance the personal and professional development of law enforcement leaders by preparing them for complex, dynamic, and contemporary challenges through innovative techniques, facilitating excellence in education and research, and forging partnerships throughout the world."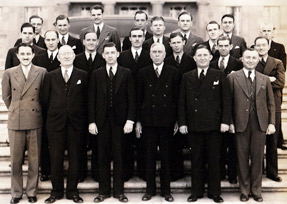 The 10-week program was established in 1935 by J. Edgar Hoover and is held at the FBI Training Academy in Quantico, Virginia. Each training session, five (5) police executives from Wisconsin police agencies are selected to attend. Approximately 250 law enforcement executives graduate during each session. There are four (4) sessions per year.
The Chenequa Police Department is proud to have graduates of the FBI National Academy. These members include:
Chief Robert A. Douglas, Session 188 (1997) Retired Chief of Police
Captain David Reid, Session 232 (2008)  Retired Police Captain
Chief Dan Neumer, Session 259 (2015) Current Chief of Police
Captain Matthew Carney, Session 262 (2015) Current Police Captain
Officer Jeffrey Gonzalez, Session 268 (2017) Part-Time Officer